Workshops, masterclasses and courses
Tea is such an exciting topic and so much to learn. We have again great learning opportunities at Windy Hollow for this growing year 2020. Just get in touch if you would like to book.
Masterclasses – I have thoroughly enjoyed working with 3rd year students at Abertay University in November 2019. We discussed tea growing as linked to their course on food security and sustainability. There are already a couple of masterclasses in the diary for this year in a number of locations. The themes are mainly around natural tea growing approaches in the face of climate change. Get in touch if you would like to organise a masterclass and would like to invite me. Looking forward to hearing from you.  🙂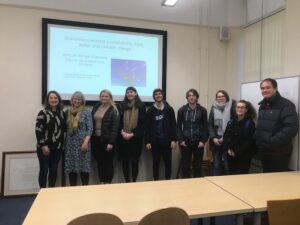 Workshops and courses –  These are opportunities for more in depth learning. Following on from last year we again offer workshops and courses covering many tea topics including tea growing, organic tea, tisanes, GreenTea making, tea tasting, starting a tea garden, going organic, growing from seed, tea and biodiversity and much more. Teaching is in very small groups or one-to-one tailored to your learning needs. Get in touch to discuss. Looking forward to hearing from you.  🙂
Publications and Interviews –
February 2020 – Article on Tea and Climate Change published in Eighty Degrees Tea Magazine, 3rd Edition.
November 2019 – Interview with Being Tea chatting about Windy Hollow Tea garden, the challenges of growing tea in a colder climate and natural tea growing approaches. Available here  on this page scroll down and look for Windy Hollow Tea Interview 🙂
August 2018 – Interview with Soil Association UK available on Soilassociation.org
July 2018 – Interview with Locavore Magazine